Aug 27, 2021 02:16 PM Central
Diane Felux
This is one of those recipes you will WANT to have on hand ALL THE TIME!! It was so good and even our pickiest eaters didn't complain and loved it! My husband kept looking at me and said "Great Job" TWICE!! Lol! You can change this up however you like but these are the ratios we used and it came out great! Let me know in the comments how you like it! For more yummy low carb recipes, you can follow my free Facebook page
here:
Ingredients:
1 Tbs avocado oil
2 tsp fresh ginger, I used a tiny shredder to shred it
1 Tablespoon minced garlic
1/2 cup liquid coconut aminos (in the Chinese section of the store)
1/2 cup water
1/4 cup Monkfruit classic sweetener
1.5 pounds flank steak or top sirloin cut into pieces
1/4 tsp red pepper flakes (optional)
5 stems of green onions diced real small (optional)
1/2 tsp xantham gum
2-3 cups broccoli cut up (can be frozen)
Instructions:
1. Heat 1 tbs avocado oil in a medium saucepan over medium high heat.
2. Add in the ginger, garlic, red pepper flakes and stir for 30 seconds...not very long at all. You don't want the garlic to burn.
3. Add the coconut aminos, water and sweetener. Bring to a boil and simmer until thickened which is about 5 minutes.
4. Add the xantham gum and simmer until it gets thicker...a few minutes. Keep stirring it.
5. Pour in a heat-proof bowl and set aside.
6. Add a little more avocado oil into the pan and sear the flank steak until no more pink is showing.
7. Once cooked, drain the juice...we won't be using it.
8. Add the sauce back into the pan with the beef and add cut broccoli
9. If the broccoli was frozen, just keep stirring it with the beef and sauce...it will thaw.
10. Lower the temperature and put the lid on it and stir it every so often.
11. Add optional green onions for flavor and decoration.
12. Heat up the cauliflower rice according to the package or put on the stove top. Can add optional chicken stock or any seasonings to make it taste good!
13. Serve the Mongolian Beef over the cauliflower rice. ENJOY!!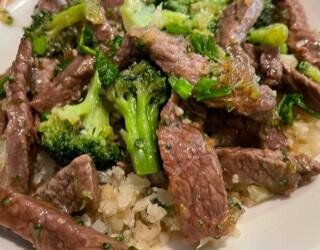 This is the sauce simmering