Jan 31, 2022 07:37 PM Central
Diane Felux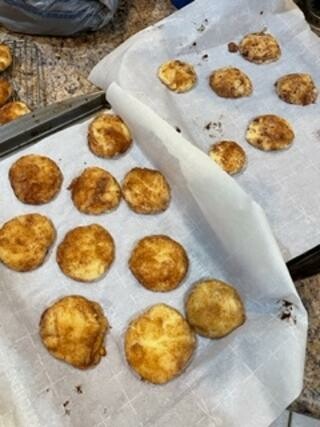 These cookies are always a hit especially with my picky eaters! The kiddos don't even know that these cookies are good for them...for the most part!! Let's get to baking!!
Ingredients:
1/2 cup unsalted butter (1 stick) softened
4 ounces cream cheese (softened)
1 & 1/4 cup powdered erythritol (I sift it to get all the clumps out) (I use this one to reduce the carbs)
Powdered Erythritol
1 egg
1/2 teaspoon baking powder
1 teaspoon vanilla extract
pinch of salt
1 tablespoon ground cinnamon
Instructions:
1. In a large bowl, cream together the butter and cream cheese with a hand mixer until smooth. Slowly add the powdered erythritol until combined. Add the egg, baking powder, vanilla, and salt. Mix to combine. Add the almond flour in slowly until fully incorporated until well combined. Place in the fridge for one hour to rest.
2. Preheat oven to 375 degrees. On a plate, combine the cinnamon and classic monkfruit. Set aside.
3. Roll dough into 1 inch sized balls, about 2 teaspoons worth of dough. Roll into the cinnamon/monkfruit mixture. Place on a parchment lined cookie sheet about 2 inches apart...this will get messy.
4. Bake for about 9 minutes, until just set. Do not overbake, they will puff up but won't get golden brown. Let cool on baking sheet for 10 minutes and then transfer cookies to a wire rack and let cool completely.
Enjoy!