Jul 5, 2021 10:37 AM Central
Diane Felux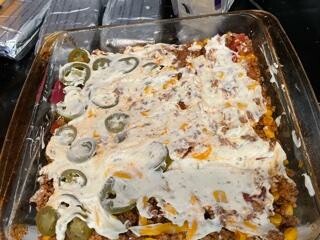 I love making yummy meals for my family....especially ones that everyone loves! We have 4 kiddos so it isn't always easy to accomplish that. This casserole was a MAJOR hit! My husband and I had 3 servings right off the bat! The Carbquik is from Walmart and is not the healthiest for us but neither is Bisquick which is what the original recipe calls for. This is not a casserole to eat everyday but if you are wanting a guilty-pleasure food...then this is it! Also, I am all about easy and I think I dirtied up the whole kitchen making this so it wasn't that easy but it was so worth it! Lol! Tell me in the comments how you liked it!
Meat Layer
1 lb lean ground beef
1/3 cup water
1 oz taco seasoning...low sodium
1/3 cup diced yellow onion
20 oz diced tomatoes, drained (any variation) or Rotel for more spicy
12 oz canned corn, drained (this isn't carb friendly so you can leave it out)
Biscuit Layer
Follow instructions on the box for the cheddar biscuits. I omitted the cheese and added about 2 tablespoons of the garlic seasoning that I took a picture of and about 1 teaspoon of garlic salt.
Cream Cheese Layer
7.5 oz Philadelphia whipped chive cream cheese
1/2 cup mayo
1 tbsp onion powder
1/2 tsp salt
Cheese Topping
2 cups shredded mozzarella and cheddar cheese blend
Optional jalapeno slices
1. Preheat oven to 325 degrees.
2. Heat and crumble ground beef as it cooks and once it is cooked...drain the grease from the pan.
3. Add the water, seasoning, drained tomatoes, and drained corn (optional) and simmer over medium high heat for 4 minutes.
4. Reduce the heat to low.
5. Mix the Carbquik according to the instructions on the box and add in the garlic seasonings.
6. Spray an 8x10in pan with coconut oil spray and dump the dough mixture in the pan and spread it out evenly.
7. Next, layer the ground beef mixture.
8. Dump the cream cheese mixture together and blend smooth either using a spatula or an electric mixer.
9. Spoon this cream cheese mixture on top of the beef mixture and even it out.
10. Add jalapenos if you want....we added it on one side for us and left the other side without them for the kiddos.
11. Sprinkle the shredded cheese mixture on top.
12. Cover with foil and bake for 30 minutes. Different pans cook differently so keep checking it to make sure the biscuit layer is done and crumbly.
I love giving all kinds of low-carb yumminess in my Leaning Low-carb Facebook group which can be accessed here:
"Guilty-Pleasure Eating Without All The Guilt"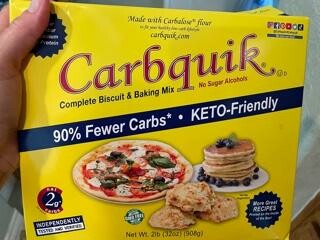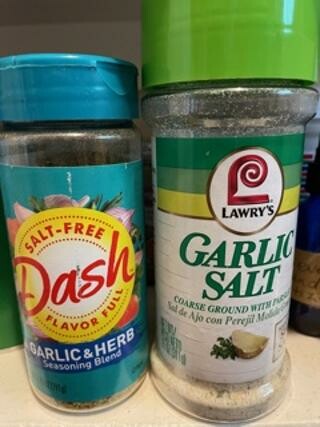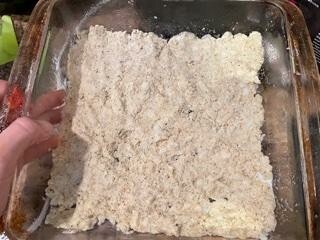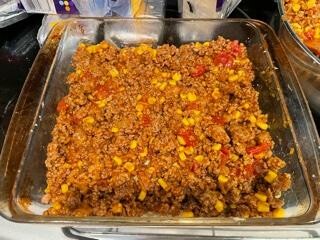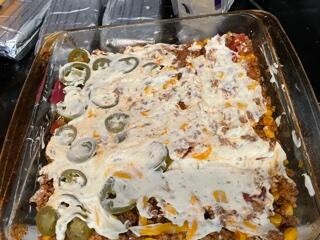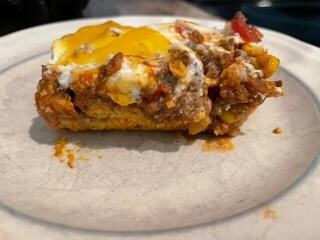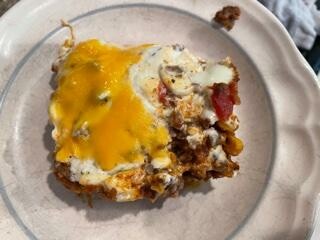 Jul 1, 2021 05:44 PM Central
Diane Felux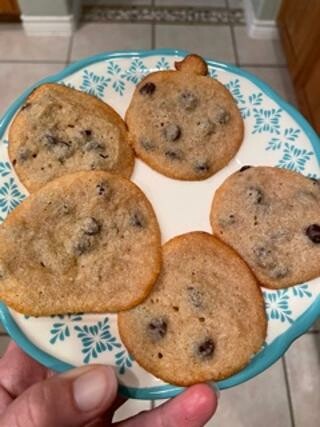 My husband is a Cookie Monster! Here is a recipe for some yummy low-carb chocolate chip cookies so you can feel guilt free when eating them. I cut this recipe in half because I wanted to see how they turned out...they were great right from the oven and then became a little spongy...lol! Sounds weird but they were still delicious...like little sponge cakes! The flavors were OUT OF THIS WORLD!! I will keep tweaking it but for now they are great!
Low-carb Chocolate Chip Cookies
Ingredients:
1/2 cup butter, softened, not melted
1/4 cup coconut oil, melted
1/4 cup Lakanto monkfruit sweetener
1/3 cup Lakanto brown monkfruit sweetener
1 egg
1 teaspoon vanilla extract
1/2 teaspoon almond extract
2 cups almond flour (I use Blue Diamond)
1/2 teaspoon baking soda
1/2 teaspoon Pink Himalayan sea salt
3/4-1 cup Lily's dark chocolate chips
1-2 tablespoons coconut flour (optional)-only if you want them fluffier
1. Preheat oven to 350 degrees and use parchment paper on the cookie sheet.
2. Cream butter and coconut oil with a hand mixer until combined.
3. Add both sweeteners, egg, extracted to creamed butter mixture and beat with hand mixer. Add the coconut flour here if you are using it.
4. In a separate bowl, combine the almond flour, baking soda, and salt and mix well.
5. Add butter mixture to the flour mixture and continue to beat with the hand mixer.
6. Fold in the chocolate chips and use a cookie scooper or a tablespoon to drop the cookie dough on the lined pan.
7. Bake for 7-8 minutes and let cool on the counter.
Yields about 32 cookies.
Serving Size is 1 cookie but we ate way more!
Nutritional Facts Per Serving:
Calories: 100 total; Fat: 9.5g; Saturated Fat: 4.5g; Sodium: 39mg; Carbohydrates: 3.5g; Net Carbohydrates: 2.5g; Fiber: 1g; Sugar: 0.94g; Protein: 1.98g